There is no question that Colin has done it all. From his time with the British Commandos to serving as a Police Officer here in Idaho. With all that just scratching the surface of his service. This is our second time having him on the show, so if you missed the first one be sure to check out EP|15. We took a different direction on his return and discussed some of the lessons learned while serving both in the Military and in the Police. Lessons that he will carry with him his entire life. We touch base on the cruel reality of seeing people on their worst days, and how that can unfortunatley cross over into your personal life. Coming to terms that sometimes we need a little help to see us out of the darkest times.
This week we had the chance to sit down with Sam (PrepMedic) to discuss both his time as a critical care flight paramedic, reserve deputy sheriff, and tactical medic as well as his highly educational Youtube channel. Sam brings a lot of knowledge to his followers in regards to selecting the right medical gear, as well as gaining insight into the life of EMS and law enforcement. If you have never checked him out be sure head over to his Youtube channel.  Follow Sam: @prep_medic Shop: www.LTCreed.com Follow us on Social Media: @LTCreed Contact us: ChrisB@LTCreed.com
With Black Friday and all the holliday shopping right around the corner, delays in supply chains are forming a logistical nightmare. Massive container ships are pilling into ports with no efficient way to offload their goods. Just like everyone else, we are at the mercy of these ships to get our supplies in time, and be able to stock up for the busy months ahead. Give this one a listen if you are unaware of the issues going on at our ports. If you want to chime in, send us a DM @ltcreed on Instagram. Shop: www.LTCreed.com Follow on on Social Media: @LTCreed Youtube Instagram FaceBook Contact us: ChrisB@ltcreed.com Thanks for listening!!!



Good creed, and I enjoyed listening to you. I am an old guy and former Jarhead, firearms instructor, living rural and still on the journey. It is most definitely a lifestyle and an attitude. I think your EDC pocket kit is just what I need. It's more stuff and more compact than I can build myself.







Thank you for bringing LTC to the podcast space. I love all of your products and will enjoy listening to these shows for some behind the scenes info. Great job on Episode 1.

Paul Falavolito, Chief White Oak EMS Special Operations Team, WOTAC



I own the EDC, responder, and get home alive kit and I am more than pleased with all of them. Unparalleled quality and well thought out contents for every field care need. I am looking forward to listening to this podcast for their input and experiences. LTC has definitely earned my lifelong loyalty as a buyer/subscriber.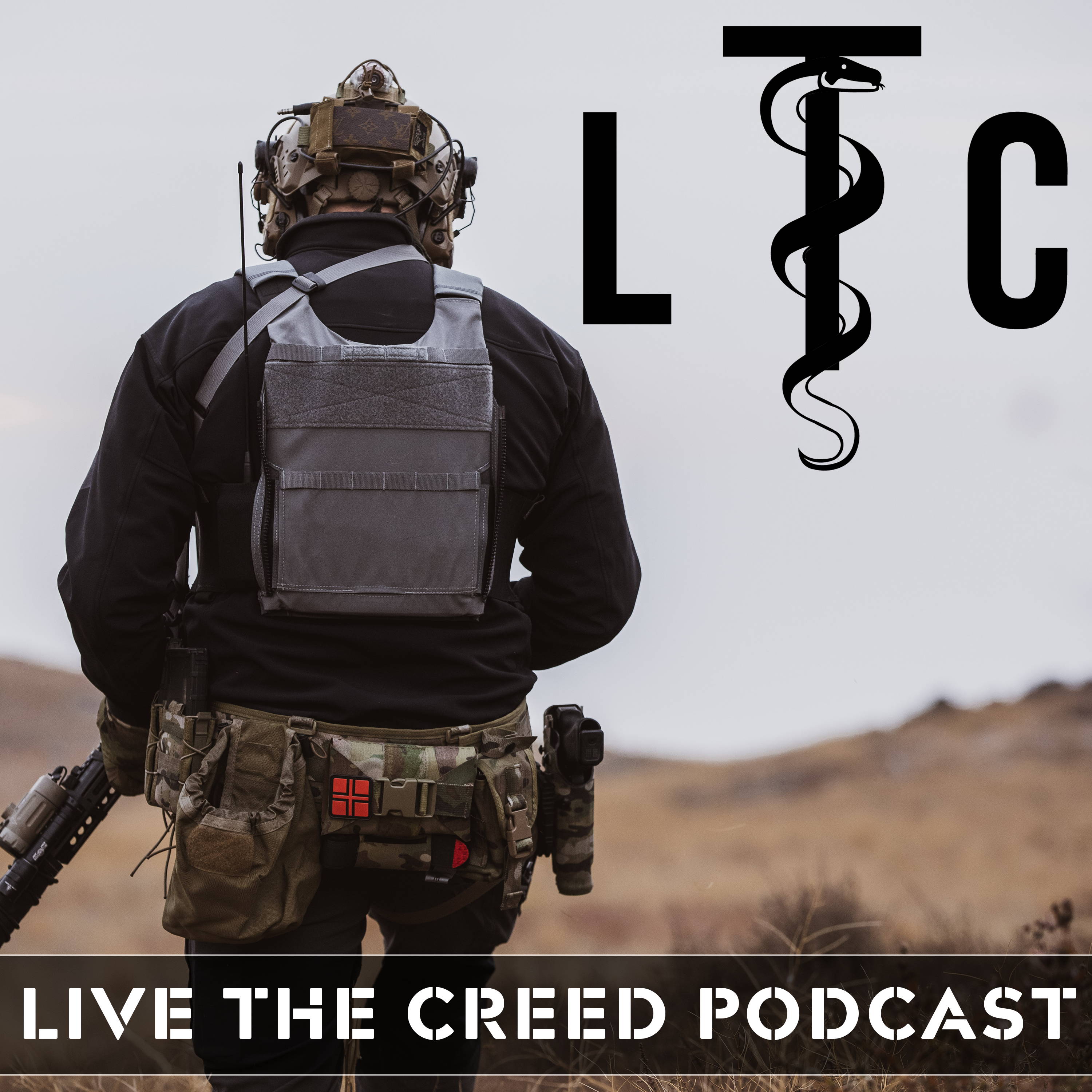 Welcome to the Live The Creed Podcast,
we created This podcast to take you behind the scenes of an American run small business, give you all a space to get to know us better, and discuss topics related to medical & everyday carry gear.
new episodes will be uploaded every Thursday. It is hosted by Jon (ltc CEO), Chris (coo) with occasional guests from the first responder community.
thanks for tuning in! please submit any questions or comments to: Chrisb@ltcreed.com